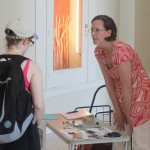 The Surprising Power of Community-Based Journalism
I just completed my first community outreach event on electricity. If you'd have told me a year ago that I'd be doing this, I'd have laughed. Like most people, I only even thought about electricity when it was out. Electricity seemed like a tedious subject best left to experts.
WBEZ's Curious City, an innovative public radio program that reports on questions posed by listeners, changed my mind. It took a question about Chicago's electricity that I originally asked on a whim and elevated it to an issue of tremendous importance to me — one to which I would later devote 100s of hours of my time and around which I'd engage friends and community members. Its reporter not only investigated my question, but involved me in the story. Its staff then challenged me to act on what I'd learned and report back. They all made me feel as if I, an ordinary (albeit curious) citizen, was as important as any expert.
It all began in a cramped voting booth in a Chicago church basement. I had come to vote "yes" on the municipal aggregation referendum to allow the city to select the source of residents' electricity. The referendum passed and one month later I got a letter saying my electricity would now come from 100% "clean" energy. I pictured windmills and solar arrays and felt relieved. I wouldn't have to think about electricity anymore.
Then a friend forwarded me an email asserting that this "clean" electricity would mostly come from fracked natural gas. Fracking can be extraordinarily destructive to both the environment and human health. Surely this couldn't be true!
When my own research didn't reveal much, I went to the WBEZ Curious City's website, typed a question about the source of Chicago's electricity, and promptly forgot about it. Five months later I got an email from a producer saying that my question had been selected for voting. Suddenly, electricity seemed really important to me.
For each Curious City program, three potential questions are chosen. The one that gets the most online votes wins. I wanted my question to win. So I promoted it. I tweeted it. I put it on Facebook. I emailed everyone I knew who was concerned about fracking. Not only did my question win, but now lots of other people wanted to know the answer as badly as I did.
Environmental blogger Chris Bentley began his reporting by asking me questions: why did I vote for aggregation, why did I care about renewable energy, and especially what did I most want to know. He invited me to come along on his interviews. Nothing would have delighted me more. But, alas, I was headed out of town for a month. Luckily, thanks to the program's multi-media design, I could follow his progress online via the nifty reporter's notebook.
The WBEZ's Curious City program answering my question aired almost exactly one year ago: on July 2, 2013. While the exact source of Chicago's electricity couldn't be confirmed, a significant portion would indeed come from fracked natural gas. The program then did a listener poll and two follow-up stories: one on the addition of 5% Illinois wind power and another on the Pennsylvania power plant coming online to produce Chicago's electricity. Each time, the producers asked me what I thought and incorporated my responses into their story. For months afterwards, they would occasionally ask me what else I'd done and share it on their website.
My first action was as a consumer. I "opted out" of municipal aggregation and signed up for electricity from a small energy company that supports Illinois wind farms. My second action was as a citizen. I looked for a local advocacy group that both worked to green our electricity and welcomed resident participation. Not easy. Much of the information I found online was out-of-date. When I emailed organizations to ask how I could help, most didn't even respond. One notable exception was the Chicago Conservation Corps (C3).
C3 was created by the City of Chicago and is now run by the Peggy Notebaert Nature Museum. Its purpose is to train and support Chicago residents to engage their communities in environmental sustainability issues. When I asked if I could work on "greening" Chicago's electricity, C3 staff replied "of course"! So I began C3 leadership training: 20 hours of classroom instruction, participation in environmental activities like packing weatherization kits and learning green plumbing, and whatever support I needed to create my own project. I also attended events about energy, read articles and books, and started paying close attention to energy news.
Surprisingly, the more I learned about electricity, the more fascinated I became. I came to realize that it is simply too important to our collective future to be left solely to experts. Decisions about whether to subsidize solar or coal, promote micro-grids or smart grids, build new transmission lines or find ways to meet our needs without electricity all involve important values questions and trade-offs. They impact the kind of world we all will inhabit. As such, they require the involvement of citizens.
Many times I've asked myself "Why am I doing this? Isn't electricity a tedious subject best left to experts?" Knowing that the staff at WBEZ's Curious City cared what I did, that they valued citizen input as much as that of experts, kept me going. The quest I began with WBEZ as a "curious citizen" one year ago has now culminated in the launch with C3 of Electric Community, a series of interactive community-based activities to engage Chicago residents in "greening" our electricity. Who knew a radio program could have so much power?
Slider photo: epSos.de
Article photo: Janice's first Electric Community outreach activity at Chicago's Sulzer Regional Library